🏞 Lake County Home sales are starting to pick up, even with the crazy weather 🌨 we just had. I personally showed 3 different sets of buyers homes as soon as the power came back on 🙃 (literally). Spring is going to be here before we know it and people are still looking even with a higher interest rate. One phrase we have in the industry is you "date 🌹 the rate and marry 💍 the purchase price". Some buyers know what they are looking for and others are just getting started. When buyers hesitate to write the offer it makes less competition for others making the offer accepted without a multiple counter situation happening.
Homes that have been sitting this winter are more likely to see lower 📉 offers accepted. Some sellers are even considering allowing credits to the buyer for closing costs or buying down the rate temporarily. Freddie Mac is reporting an average rate of 6.5% currently and will rise 📈 again this spring. Inventory is still below average for the amount of homes we currently have active on the market in Lake County.
🏡📣 February 2023 Active listings in Lake County are sitting at 67 homes and 64 active vacant land properties.
💵🏡 Sold homes for the month of February were at 52 and 18 sold in vacant land. Currently on the market for Lake County we have 293 homes available and 542 vacant land properties for sale. Commercial 🏢 properties are starting to pick up as well with 55 active currently in Lake County.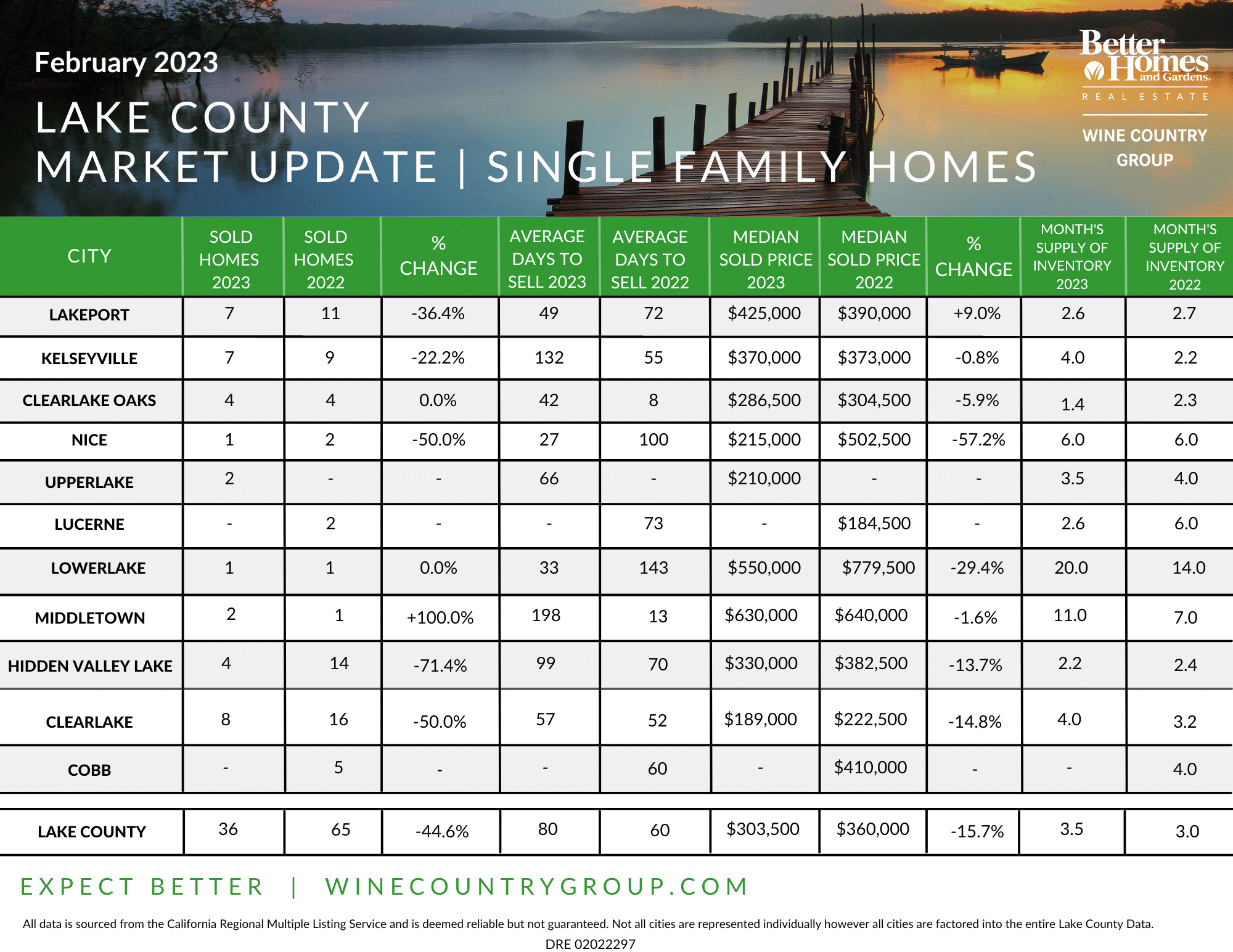 If you are looking 👀 to sell this spring, price your home correctly. It's more likely to get more showings and an offer sooner. When you list too high the buyer won't even consider looking at the home because it's out of their budget and they think the seller is unrealistic. The market this spring 🌱🌿 is going to be different than last year. We are going through inflation and buyers are more cautious before writing the offer.
Helpful tips before listing are getting pre-inspections before listing to help show the buyer what condition the home is in. It can mean little to no re-negotiating during the escrow process. Call 📲 your local expert, like myself to see just how we can help you achieve your 2023 goals.
Jessica F. Spencer DRE #02021763
Better Homes & Gardens Real Estate Wine Country Group
*If you are interested in writing an article for our newsletter please Contact Us, we would love to hear from you!